Ukrainian Freedom Digest: December, 30
30.12.2022

Posted by:

Admin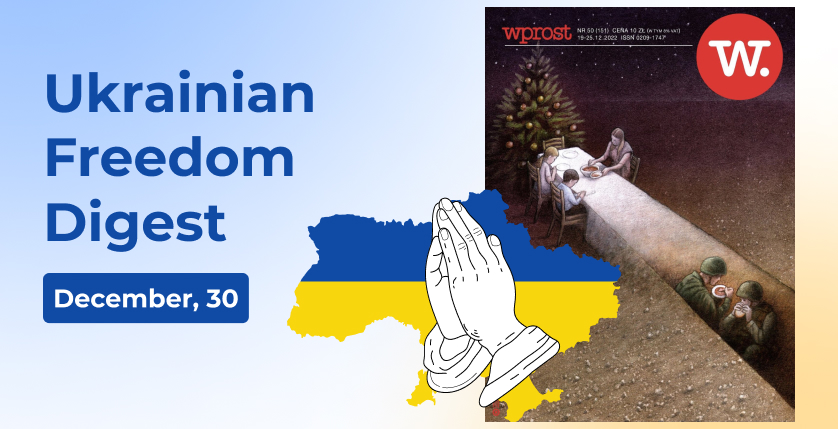 Glory to Ukraine!
Glory to its defenders*!
The word defender has several meanings and one of them is a person who supports someone or something, esp. when attacked or criticized. So not only our warriors and volunteers are our defenders, but also… you are.
We would love to dedicate this digest to no one, but you. You, the reader of our digests as well as you, who share information of the real events that are happening in Ukraine; you, who donated to help people who need it and you, those who simply support Ukrainians with kind words.
On behalf of all Ukrainians it is important for us to express gratitude for everything that has been done for our people abroad, online or on the battlefield. It will never be forgotten by our nation and always be cherished. After all with such support there will always be light and hope for Ukraine and for the world.
Events of 2022 have changed a lot of destinies, opinions and people. However this is what the power of your support gave us: the voice that is heard all around the world, the shield that is protecting our soldiers on the battlefield, the hope in the eyes of a small child who knows exactly that everything is going to be alright.
Warmest and proud gratitude is also expressed to the ordinary Ukrainians, those who live in Kherson and awaited for AFU to liberate them. Each Ukrainian, even from safer parts of Ukraine, was gently keeping faith in Kherson citizens, who bravely defended their home city in disguise, who rebelled all the way the occupation went and still stand together even as their mother town is being shelled. You are our heroes too.
The deepest gratitude also goes to the workers of the energetic sector, who keep on stabilizing the energetic system of Ukraine and providing ordinary citizens with electricity, light, ability to cook food, get warm, sleep peacefully and simply live a normal life after each shelling and air attacks from the occupant. We help our soldiers on the battlefield, but you are the ones who don't let us get stuck and cold in the dark and continue living now normalized war-life.
Ordinary volunteers, who spend hours and days at Invincibility points, or those who bravely gather money and products for the liberated villages and towns as one team, you are not excluded. Your work is clearly not exaggerated, because you come first to those who need help and maybe to those who have already lost hope. 
This year united Ukraine with the whole world like never before. And the truth is, everyday all of you make our victory closer. Every small token counts and will never be forgotten, but kept in the hearts of those who have seen the occupant's deeds and all Ukrainian nation.
Glory to Ukraine!
Glory to its defenders*!