In 2010, we, the QATestLab team, faced the fact that a lot of people spoke about programming as a job of the future. But there was little talk about software testing as a forward-looking job in the IT field. But we knew for sure that the software testing market is developing rapidly and the need for qualified QA-specialists will grow every day. And we decided that it would be great to train those who want to build a career in IT as a software tester (and, as time has shown, we were absolutely right about it, nowadays the demand for testing specialists is huge).
In fact, that's how the idea of creating a Training Center has appeared.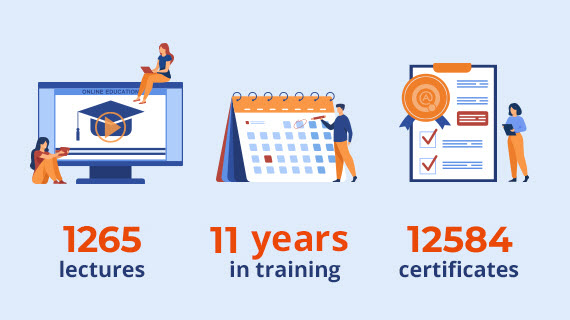 From the very beginning, we launched offline courses at several offices of our company. And a few years later, we designed and implemented online courses.
Our first online course was the "Fundamentals of Software Testing". After launching this course, we began to look forward to registering applications from potential attendees. Frankly speaking, we were terribly excited and anxious. But after the first 100 applications, we understood that we were moving in the right direction.
Over the past 11 years, we have helped over 72,000 students to obtain basic knowledge in the IT field and take their first steps in the QA Intern specialty.
In 2016, we went even further and decided to launch 2 completely new training programs: "Fundamentals of Automation Testing for Web Applications" and "Fundamentals of Game Testing".
As earlier, we conduct all the courses online. And you can apply for free.
We plan the launch of in-depth training programs, as well as the design of specialized QA courses.
We know for sure that becoming an IT specialist is easy!
Sign up for our courses and take a step towards a new job!