Ukrainian Freedom Digest: September, 9
09.09.2022

Posted by:

Admin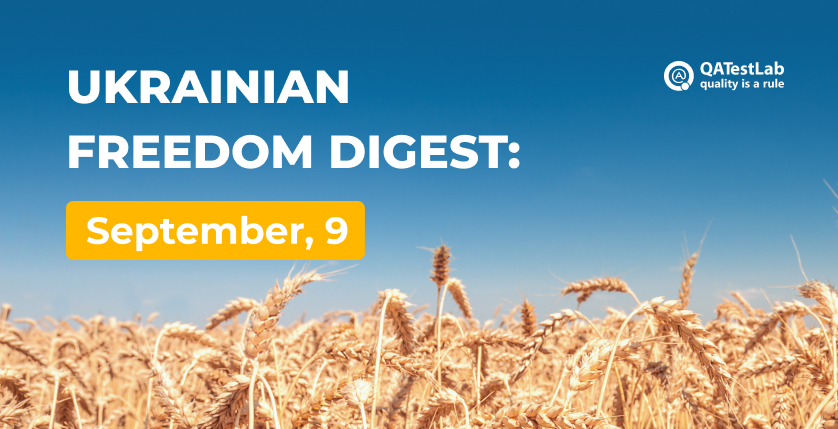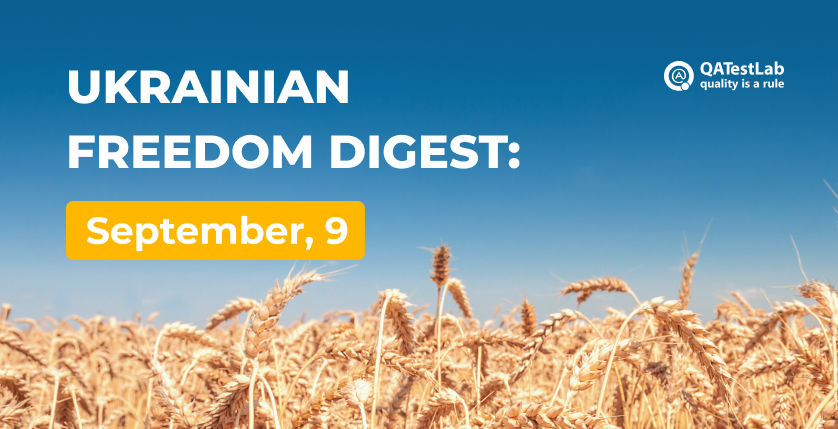 Glory to Ukraine!
Glory to its heroes!
It has been six months since russian forces started the full-scale war on the territories of Ukraine with the help of the violent force, destroying everything around. It has been half a year since a lot of Ukrainian citizens cannot go home, simple because they don't have one anymore; half a year since brave Ukrainian soldiers resist the occupants; half a year since all of Ukrainians decided to fight back on all battlefields; half a year since we started to share the truth in our digests.  
This week we have gathered the highlights of events that happened in Ukraine for the last two weeks.
– Liberation of Ukrainian lands is slow but steady. According to the top officer at the General Staff, Oleksiy Hromov, Ukraine's Armed Forces have advanced up to 50 kilometers deep into the Russian-occupied territories in Kharkiv Oblast. On 8-th of September it was also announced that Balakliia had been liberated from the occupants that had been holding the hostages for 6 months. Another happy piece of news is Kherson region. «What we've seen in the Kherson region first is some continued offensive operations by the Ukrainians,» Pentagon press secretary Air Force Brig. Gen. Pat Ryder told reporters recently. «They continue to make some forward movement. We are aware that they have retaken some villages». In general, since the beginning of September, Ukrainian defenders have liberated more than 1,000 square kilometers of the territory of our country.
– Ukrainian cities continue suffering from the russian missiles. Nikopol district was struck with Russian Grad MLRS and heavy artillery. Kharkiv Oblast Governor Oleh Syniehubov reported that Russian forces shelled the Saltivskyi district and the Chuhuiv district, where one woman was killed. As reported, on September 6, the enemy also launched a missile attack on Kryvyi Rih, causing a fire at an oil depot.
– The United States allocates up to $675 million in the latest package of military aid to Ukraine. The U.S. Defense Secretary Lloyd Austin, who spoke Thursday at the start of a meeting with top defense officials from allied countries at the Ramstein Air Base in Germany, states the following decision. Later on, U.S. Secretary of State Antony Blinken, during his visit to Kyiv on 8-th of September, stated that the U.S. support for Ukraine and the pressure on Russia prove their effectiveness and that the U.S. will not stop until the aggression against Ukraine stops.
– On August 31, 2022, the IAEA mission arrived in Zaporizhzhia to visit the nuclear power plant in the temporarily occupied city of Enerhodar. However, the IAEA mission was not allowed to enter the Zaporizhzhia NPP emergency response center, where armed Russian troops are remaining now. Thus, some armed Russian soldiers were simply 'hidden' at the plant, as the IAEA representatives were not supposed to see them.
– Support is seen, so are its results. The liberation of Ukraine's territories, which is now taking place in Kharkiv and Kherson regions, is the best proof of the effectiveness of joint efforts by Ukraine and its allies. «The only thing that putin can do to save the lives of his soldiers is to order their immediate withdrawal,»  Serhii Kyslytsia told the UN Security Council meeting.
The reason for the fact above is a unity that Ukrainians are provided with. Unity with those who offer help in order to secure our independence; unity with those who are ready to shelter our people abroad; unity with those who share the truth about Ukraine online too.
It is a bitter thing that you have to witness war in 21-th century, but it is more bitter that Ukrainians are dying to defend their ethnicity, territories and simply being. No one is a watcher as it will sooner or later influence every country. So that is why we ask you not to stay aside and at least remain informed about the truth! 
In the name of all heroes!
In the name of the long-awaited peace! ?

#StopWar #Ukraine #PrayForUkraine #QA