Ukrainian Freedom Digest: September, 23
23.09.2022

Posted by:

Admin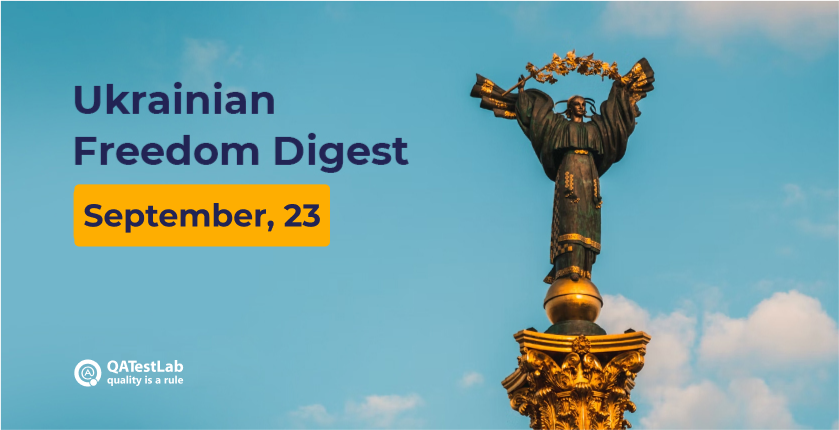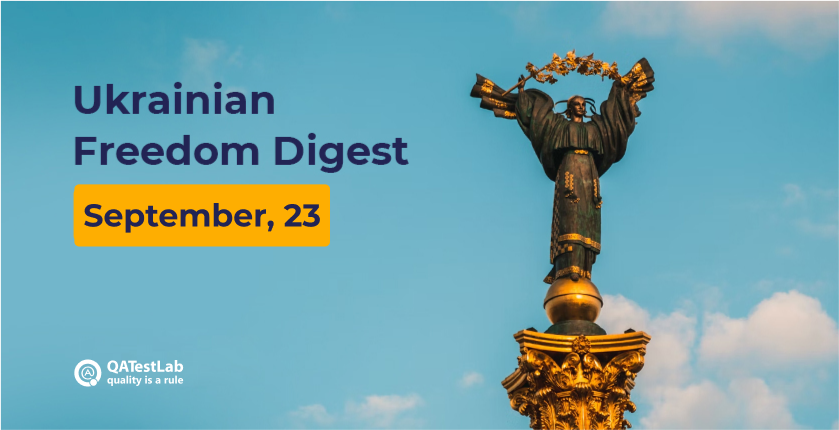 The power is always in the hands of those who defend what they cherish. Our brave soldiers continue to serve their country and their people! We, the Training Center of QATestLab, provide our token of fight in the media battlefield by delivering only real news in our digests. 
Here are the highlights of events that happened from 8-th till 23-th of  September:
Warriors of Lights and Hope are now free
The destiny of the Azov Regiment soldiers was a weak point that throbbed in the hearts of each Ukrainian. In the evening of 22-nd of September it was a relief to get to know that there has been an exchange that allowed Ukraine to free some of the captured Azov soldiers. It was revealed by the president Volodymyr Zelensky that 215 Ukrainian and international members of the Azov Regiment have been freed while Russia took back 55 soldiers. Pro-Russian politician Viktor Medvechuk was also part of the swap. Currently some of the warriors are on their way home in Ukraine, among which is Ptashka (Kateryna Polishuk) who along with other brave warriors of Azov such as Redys, Volyna and Kalyna, became a symbol of hope for all Ukrainians. Another part of captured soldiers including Redys, Volyna and Kalyna remain in Turkey till the end of the military actions in Ukraine.
Mass exhumations took place in Izyum forest graves site
Izyum, invaded in April, was used by russia as a key military hub to supply its forces from the east. In spite of being liberated, relief and sorrow are intertwined – as accounts emerge of torture and killings during the long months of occupation. Ukrainian police state that there are 445 new graves at the site, but some contain more than one body. It's unclear how all of them died. Many are said to be civilians, women and children among them. The exhumation was conducted mostly in silence, as police and prosecutors looked on. «We saw wildly frightened people who were kept without light, without food, without water, and without the right to justice,» Mykhailo Podolyak said.
Zelensky calls for 'just punishment' for Russia
The Ukrainian leader called for the creation of a special war tribunal and detailed alleged war crimes by russia, it must face «just punishment» over its invasion of Ukraine. He also set out a «formula», including more military support and punishing Russia on the world stage. Occupant must face consequences for its aggression, he said, through further sanctions and by the UN stripping Moscow of its powerful role as a permanent Security Council member. The president also called for Ukrainian lives to be protected, and for the country's internationally-recognised borders to be respected.
Russian-occupied areas hold «referendums»
Russian-occupied areas of Ukraine are staging so-called «referendums» on whether to join Russia, as Moscow pushes ahead with an apparent bid to annex territory from its neighbour.
The vote involves four regions of Ukraine in which Russia has gained ground during its invasion – eastern regions of Luhansk and Donetsk as well as Zaporizhzhia and Kherson in the south. These four regions represent around 15% of Ukraine, or an area the size of Hungary, according to the Reuters news agency. Voting is scheduled to take place over five days.
Russian media reported that electoral officials would go from door-to-door with portable ballot boxes from Friday to Monday. However, the polling stations will only operate on the fifth day, 27 September, with officials citing security reasons. In his Thursday night address, Ukrainian President Volodymyr Zelensky said the ballots were a «sham» and undemocratic. Later Mykhailo Podolyak stated in an interview to one of Ukrainian channels that the «Ukrainian government as well as world leaders won't treat such referendums as real and won't give it any value as Ukraine remains sovereign and independent». 
Ukraine knows how to win, therefore it will win! And this is how history is made. We appreciate and respect everyone who donates money to Ukraine, as well as those who simply share the truth and help our people abroad. You help to create new history and it will never be forgotten.
Glory to Ukraine!
Glory to its heroes and supporters!