Ukrainian Freedom Digest: October, 26
26.10.2022

Posted by:

Admin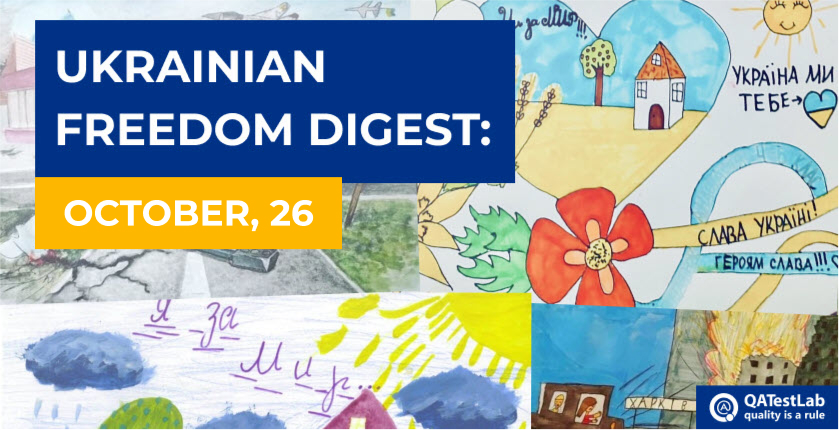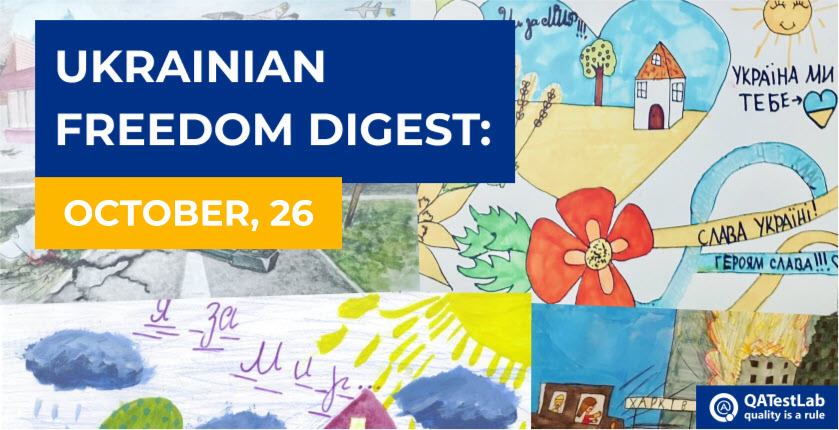 Glory to Ukraine!
Glory to its heroes!
Ukraine enters the 245th day of war, restlessly opposing the occupants' aggressive behavior. We, Training Center of the QATestLab, are continuing to provide you with a short review of the events that happened over the last two weeks.
Last two weeks, Ukraine has been suffering from missile attacks on the civil areas in Kyiv as well as Zaporizhzhia. Russian forces carried out missile and drone attacks on Ukraine's Kyiv, Zaporizhzhia and Kharkiv regions. It has been announced that the aggressor-country has attacked cities with S-300 missiles. A residential building and infrastructure facilities were destroyed in Zaporizhzhia, as well as in the capital of Ukraine – Kyiv. It has also been revealed that the drones Shahed-136, that had been terrorizing the capital of Ukraine, were allegedly sent to Russia by Iran. The UK is implementing new sanctions on three Iranian individuals and a business responsible for supplying Russia with kamikaze drones used to bombard Ukraine. However, people of Ukraine are not to be fooled and scared. Zelenskiy spoke of «significant results» in downing Iranian drones, claiming 233 Shahed UAVs and dozens of missiles were shot down during the month. 
Besides bombing the residential areas, the enemy tries to destabilize Ukrainian energy resources via conducting attacks on the working power plants around Ukraine. The latest and the most serious one was the attack on the thermal power stations in western Ukraine last week, which has caused quite serious damage, the region's governors said. Due to such events Ukraine has begun restricting electricity supplies across the country.
Thanks to the great work of the Ukrainian Armed Forces on southern directions, Moscow-backed self-appointed officials in Ukraine's southern Kherson region have begun moving civilians into Russian territory, citing fears of a Ukrainian counteroffensive. The Russian-installed head of the key southern city, Vladimir Saldo, spoke of plans to move up to 60,000 people across the Dnipro River. Images of people using boats to flee the city were broadcast by Russian state TV. Authorities said about 15,000 people have now been «evacuated».
Russia also signed a decree imposing martial law in four «annexed» regions of Ukraine – Donetsk, Luhansk, Zaporizhia and Kherson – and giving additional power to authorities in Russian border regions. Ukraine's President Volodymyr Zelenskiy urged residents not to comply with a military call-up in occupied areas. The insiders straight from Kherson inform that life in the city is still going and most of the Ukrainian population remains at home, ignoring the call-outs to leave.
Another piece of good news is that there was a prisoner exchange between Russia and Ukraine that saw more than 100 Ukrainian women walk free, including dozens who were captured during the Azovstal steelworks siege in Mariupol in May. It has been later announced that a total number of 218 detainees where 108 of them were Ukrainian women and 110 were russians, were involved in the exchange.
With small but steady steps we are coming closer to our victory and to the safety of our citizens. Ukrainians are brave and they continue to show the world how to fight the darkness. You also can join this fight on the media battlefield and help spread the truth about what is happening in Ukraine too.