Ukrainian Freedom Digest: March, 21
21.03.2022

Posted by:

Admin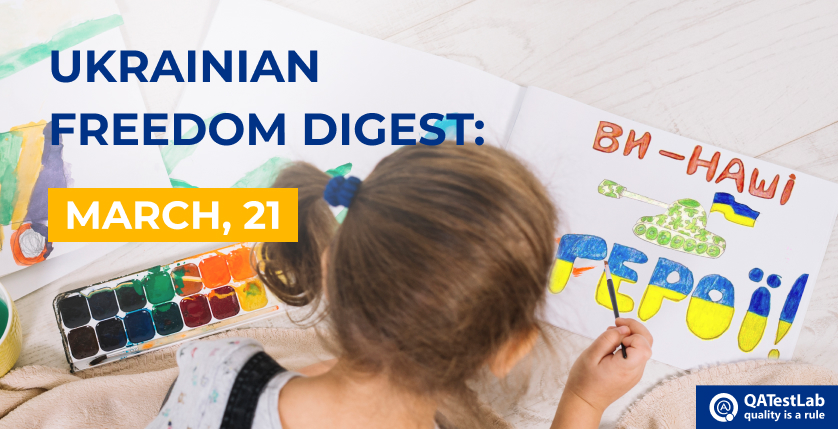 Today we are publishing another issue of our digest.
The 26th day of the war. We get through the phases from euphoria to despair, and now it is the phase of a stubborn confrontation because we know what we are fighting for! All Ukrainians stand up for their freedom, homeland, democracy and the honor of their people!
Unfortunately, the situation is unchanged at the front. Russian occupants have not progressed but have also not retreated. Russia continues to spread terror among civilians by airstrikes, destroying civilian infrastructure: homes, schools, hospitals, theatres, utility companies and plants.
Today, in the occupied Kherson, the RF soldiers fired at unarmed civilians that gathered for a peace rally against the occupation. We know this information firsthand as one of our employees has to remain and work in Kherson. 
Every citizen of our country now understands that all the strength should be directed to the fight against the enemy. In times like this, people fight as they can – some fight with guns, some tell the truth, and some work to support the economy. Even children understand they need to help, and that is why they draw pictures in support of our protectors. 
We ask you to tell the truth and spread the information about the catastrophe in our cities. Especially it concerns the situation in Mariupol, where people do not have food, water and are forced to hide in bomb shelters round the clock. But even there, they cannot be safe, as Russia drops powerful bombs wrecking the buildings. Tragically, there are almost no emergency crews or utility services that could rescue people under all the rubble. So close the sky over Ukraine!
We believe in our victory! We believe in the Armed Forces of Ukraine!
And we are endlessly grateful to the whole world for support, help and faith in us!
Please share this information, comment and tell the truth so the entire world will know the tragedy of the Ukrainian people!