Ukrainian Freedom Digest: March, 17
17.03.2022

Posted by:

Admin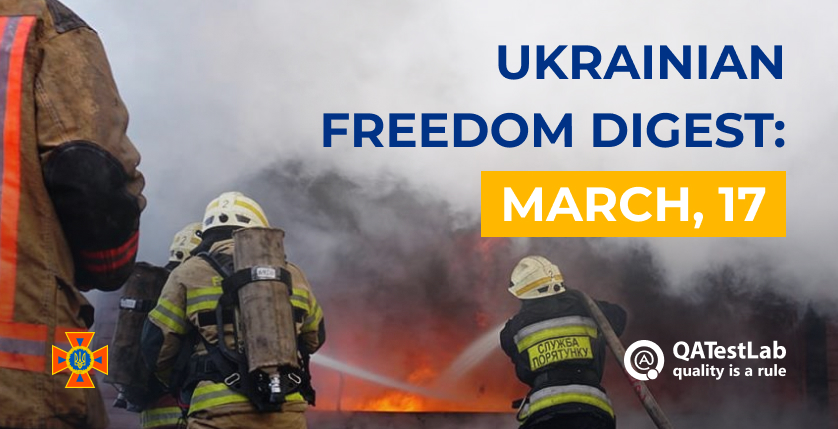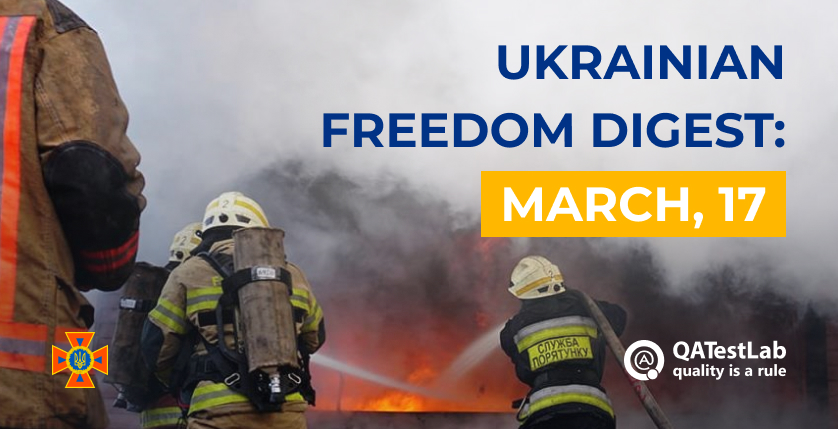 Hello, we are on the line again, 
Ukraine has been fighting for its independence, freedom and identity for 22 day now! It has been fighting just to exist!
From the military point of view, Russian Federation hasn't gained any success, so the occupiers' army continues to terrorize the peaceful civilians. Mariupol and its region is still being captured under attack from the russian military forces from the outside and terrorized through the continious airstrikes. Russian military forces have dropped a high-powered bomb on the building of the Mariupol Drama theatre which served as a hiding place for hundreds of civilians and children.
Our rescue workers have been working days and nights, saving Ukrainians from the fire, building blockages and other destruction. In the western parts of Ukraine, the SES specialists have been helping the evacuated civilians. Meanwhile, in Odessa the special lessons are held for children where they are taught what is an air alarm, shelter, curfew and explosives.
Starting from the 16-th of March, every day in Ukraine at 9:00 a.m., a minute of silence will be held in order to pay respect and honor those who got killed in the armed aggression of the Russian Federation against Ukraine. Dating to the 16-th of March there are losses of 2357 of civilians, 108 of which were children.
The president of Ukraine Volodymyr Zelensky held an online meeting with the Prosecutor of the International Criminal Court Karim Khan and assured that Ukraine will fully assist and help in the investigation of all war crimes on its territory.
On 16-th of March The UN International Court of Justice announced the decision according to the request for interim measures in Ukraine vs Russia genocide case. These are genocide charges according to the Convention on the Prevention and Punishment of the Crime of Genocide.
According to the court decision, Russia must immediately suspend all hostilities in Ukraine and stop all military or irregular armed groups under its control or influence. The people of Ukraine can only hope that Russia will at least pay attention to this decision.
We would like to thank the whole legal world for helping, all democracies, every caring person.
We ask you to continue to spread information about this terrible war as well as about the possibilities of help.
A state hotline has been opened in Ukraine for those wishing to provide humanitarian aid to the population or to support the Ukrainian military and territorial defense fighters:
 calls from Ukraine (free) 0 800 202 600;

 calls from Ukraine and other countries (at the operator's rates) +380 44 237 00 02.
Join our fight for Ukraine! Share and comment on this digest because the true information is crucial today!