Ukrainian Freedom Digest: March, 11
11.03.2022

Posted by:

Admin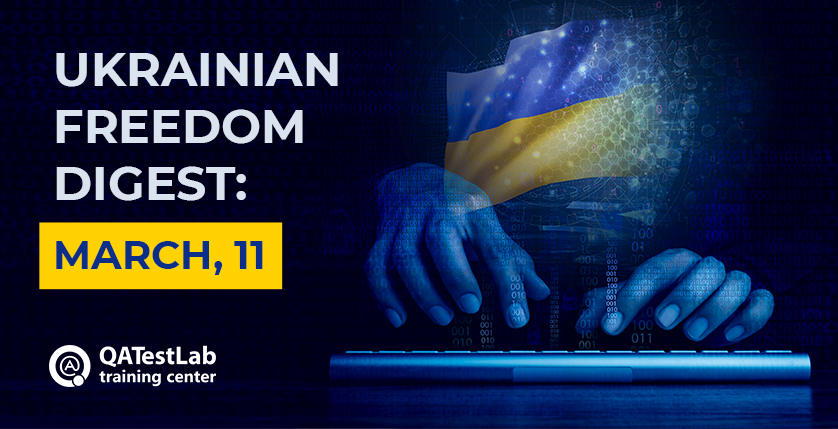 QATestLab is back online!
Day 16
Unfortunately, the war continues to take our citizens' lives in the different cities of our country. The true humanitarian disaster is unfolding in Mariupol and in the small towns and villages near Kyiv and Zaporizhzhia. A lot of civilian people are dying due to the water and food shortage, airstrikes and continuous showering by artillery and rockets. The last shocking events were hitting maternity and children's hospitals by airstrikes, the death of a six-year-old child from dehydration, and the dead residents' burial in a mass grave. As at the 10th of March, the Russian troops have not stopped firing on the humanitarian corridor from Mariupol, intended to evacuate victims and deliver food, water, and medicine to the city. 
Despite unbelievably cruel and harsh conditions, Ukrainian people do not surrender to the invaders. On the contrary, citizens of Melitopol, Berdyansk and Kherson organise meetings in support of Ukraine, protesting against the occupation regime. Here people are not afraid of RF's armed forces, shouting out their love for Ukraine and their hatred for occupants right to their faces.
Cyber warriors, both professional IT specialists and beginners are joining the fight for our freedom. We call on you to join the cyber resistance and spread the truth about a full-scale war in Ukraine and the fact that the civilian population is on the verge of exhaustion. 
Ukrainian IT specialists created an incredibly useful in today's realities application – "Повітряна тривога" that means "air raid". It informs residents of different regions about possible airstrikes. Our company has joined the testing of this application on a volunteer basis.  
We are incredibly grateful for everyone's support and help! Thank you for every kind word, humanitarian aid, and sincere prayer! 
According to the National Bank of Ukraine, more than 11,5 billion hryvnia have already been raised to support the army and humanitarian assistance.
We kindly ask you, the IT community, to spread information about possible ways to help:
Subscribe to our digest, share it and comment. The world must know the truth!