Ukrainian Freedom Digest: June, 24
24.06.2022

Posted by:

Admin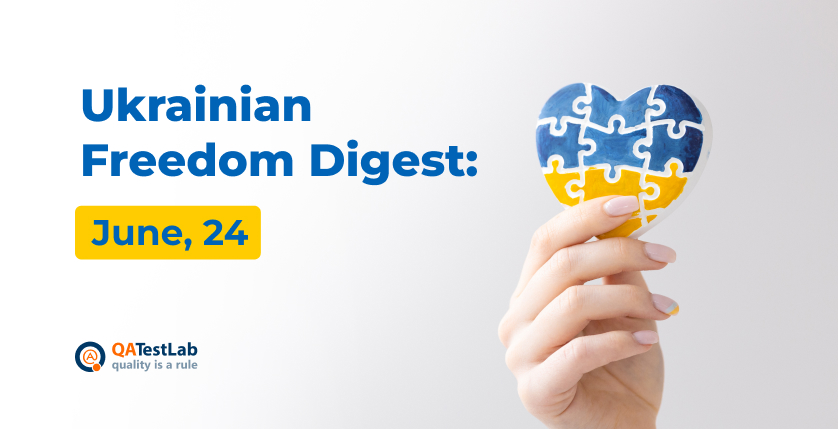 Glory to Ukraine! Glory to its heroes!
Ukraine stands and the whole world stands alongside its citizens. We continue to spread the truth about war in Ukraine, because the media battlefield is as important as the real armed battlefield. Here are some pin-point events that happened in Ukraine for the last two weeks.
Frontline situation:
Russian forces attack Severodonetsk from all directions. Russian troops are attacking Ukrainian soldiers along the entire frontline, throwing all their forces into the city, according to Mayor Oleksandr Striuk. Chaotic attacks are continuously happening in Mykolaiv district. In total, five people were injured in the region after the latest air strikes, the head of the regional council Anna Zamazeeva stated. Bashtansky, Mykolayiv, Shirokivska, Bereznehuvatska, Halytsynivska and Pervomaiska communities came under fire. Houses, schools, social and industrial facilities have been damaged by the latest air attacks.
Kharkiv is one of the cities that are being constantly attacked, but that does not scare the citizens and they continue rebuilding and taking care of their city.
Awaited visit:
French President Emmanuel Macron, German Federal Chancellor Olaf Scholz and Italian Prime Minister Mario Draghi paid an official visit to Ukraine. They were introduced to the consequences of the occupation of Bucha in order to understand the real essence of Russian peace. As a result of the visit, the leaders of France, Germany and Italy have vowed to support Ukraine's bid to join the European Union. The friend of Ukraine – the prime minister of Britain – Boris Johnson also paid a surprise visit to Ukraine offering a training program for the country's military in a fresh show of support for Ukraine's government just a day after key European leaders made a similar trip.
Ukrainian dream:
European Union leaders on Thursday 23 of June agreed to make Ukraine a candidate for membership in the bloc, a symbolic win for Kyiv amid the war with Russia and another sign of how the conflict is reshaping the world. Although, candidacy is not a full membership yet, which can take more than decades, such news cheer up and give hope to almost every citizen of Ukraine.
Heavy weapons for Ukraine:
First heavy weapons from Germany have arrived in Ukraine, Ukraine's Defense Minister Oleksii Reznikov stated on social media. As for now, our defenders are using the German Panzerhaubitze 2000, M777, FH70, M109, AHS Krab and Caesar. Latest weapons provided for Ukraine were provided by Germany, Netherlands and Australia.
Equal rights and safety:
The Istanbul convention has been passed by the Verkhovna Rada of Ukraine, which is a new advanced step to the safety of Ukrainian women. Moreover, the Istanbul Convention is a tool to advance in fighting violence against women and domestic violence and the assurance that Ukraine will be a decent candidate for the European Union; however it is an assurance of the equal treatment of rights of women.
The fact that Ukrainians get used to the fact that their motherland is under fire is upsetting, however, they are not broken. The spirits within Ukrainian society are calm and hopeful, united like never before, sharing kindness, donating for Ukrainian Bayraktar, saving businesses. However, we still need the support of the world in this war. You can be the token of truth, admired by millions of Ukrainians, simply by sharing the truth to the whole world or donating to Ukraine.
The United24 foundation continues accepting donations to rebuild the country, help its citizens and those who are in need. You can still donate here – https://u24.gov.ua/. In order to check where money goes from this fund, you can check it out online. 
Every token and share is important!
Unite with Ukraine!