Ukrainian Freedom Digest: June, 10
10.06.2022

Posted by:

Admin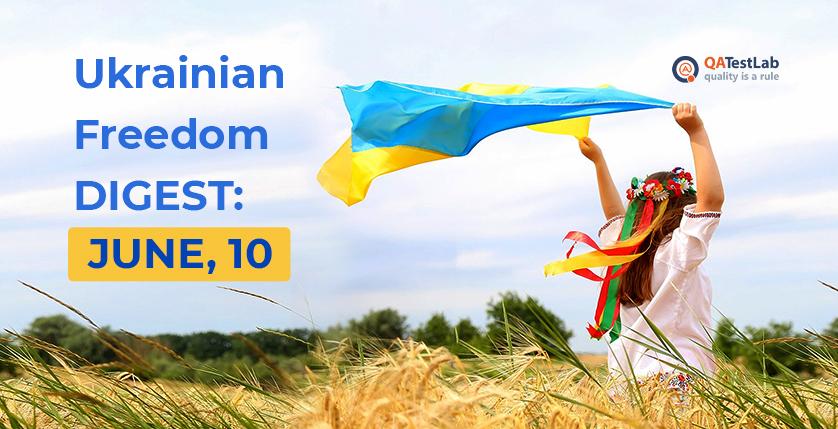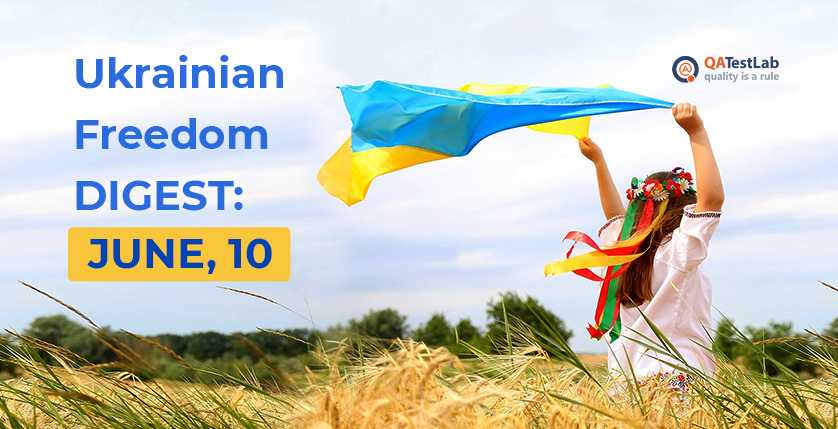 Glory to Ukraine!
100 heroic days have passed since the Russian army had started the full scale attack on our country. 24-th of February will always remain the day that has changed everything and gathered all Ukrainians and their allies on the side of good. And we continue fighting on the media front.
We have gathered some of the breaking news within the latest fortnight:
Battle of Severodonetsk:
Russian artillery slammed Ukraine's eastern Donbas region with fierce fighting over the city of Severodonetsk, but the local governor said there was some progress in pushing back invading forces. However, the Armed forces of Ukraine along with the International legion are bravely defending the city. As it was stated by Lugansk regional governor Sergiy Gaiday by 10-th of June, seven enemy attacks had been repulsed, as well as ten tanks, seven artillery systems, four armored combat vehicles, three special armored vehicles, four units of motor vehicles and an enemy ammunition depot have also been destroyed. Air defense units shot down five Orlan-10 unmanned aerial vehicles.
Silent terror:
The attention of the world news to the war in Ukraine starts to crawl down, however we cannot remain silent or leave the occupied cities forgotten. Currently silent terrors are happening in cities such as Kherson, Melitopol and many others that have been occupied by the «Russian Peace». Exactly what is happening in Kherson is near impossible to establish from the outside, but as more testimonies are gathered, many paint a picture of fear, intimidation, abuse, violence and repression. The situation in Melitopol is also hard as there are a lot of people collaborating with the Russian self-proclaimed government and denouncing peaceful people and putting them in danger. Recently it was announced by the self-proclaimed government of Melitopol, that very soon the referendum will take place in town. Based on the previous experience of Kherson, it wasn't successful and both Kherson and Melitopol remain Ukrainian cities.
Outbreaks in the city of Mariupol:
Because of the mass spontaneous burials, unsanitary conditions and lack of access to drinking water, there is a risk of developing infectious diseases, including cholera, in occupied Mariupol. Another dangerous illness that can outbreak in Mariupol can be typhus. The Public Health Center of Ukraine says that without proper treatment, such diseases can be fatal. But with successful treatment, the disease ends in complete recovery.
Heroes are not forgotten:
With a certain reduction of attention to Ukraine, the attention drops to defenders of the «Last island of hope» – defenders of the Azovstal. Since May they have been captured on the occupied territories of Ukraine. President Zelensky has said Ukraine's intelligence officials are working on a plan to secure the release of the surviving fighters, without giving any further details. Kyiv wants them all handed over, but several leading Russian lawmakers are demanding that some of the soldiers – specifically from the Azov regiment – should be put on trial. Recently there has been an official announcement that the bodies of some Ukrainian fighters killed defending the key south-eastern port of Mariupol have arrived in Kyiv, according to the soldiers' families.
Saving lives and standing as Ukrainians: 
Evacuations are continuing through all possible territories, especially Kharkiv and Zaporizhia directions, as much as it is possible. However there are people who refuse to leave their homes and lands. At the very beginning of the war it would be not a very wise decision to make, however now, as Ukraine comes back to its usual life (as much as it can be called usual nowadays) and Ukrainians are putting trust in Armed Forces of Ukraine, it just shows how much we trust and believe in our victory. That is what makes us secure about our future!
Donations make difference:
The official funding platform https://u24.gov.ua/, previously announced by the President of Ukraine, has gathered 54 772 787 $ which were successfully redirected to the medical and demining facilities. All transfers can be seen on the site above.
We are grateful to everyone who has donated to help Ukraine as well to those who continue helping our country simply by spreading the truth about the situation in Ukraine. Informational war is also a thing and educating people is important. Click the share button under this post to spread the truth and support us in our fight against Russian aggression on the media field!
Glory to Heroes!