Ukrainian Freedom Digest: December, 2
02.12.2022

Posted by:

Admin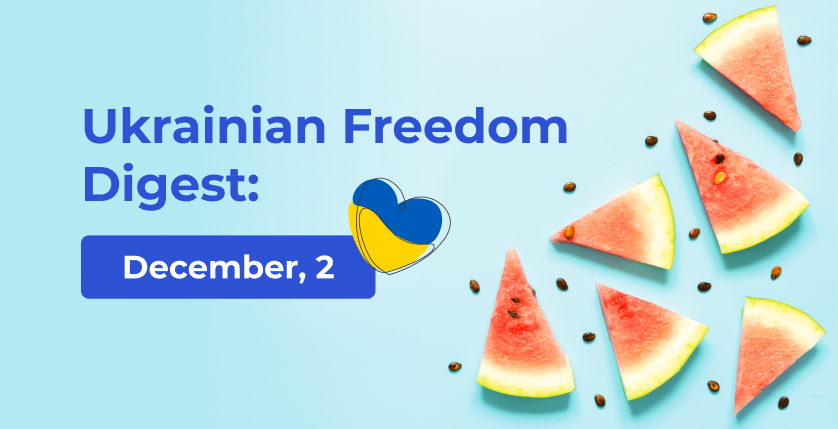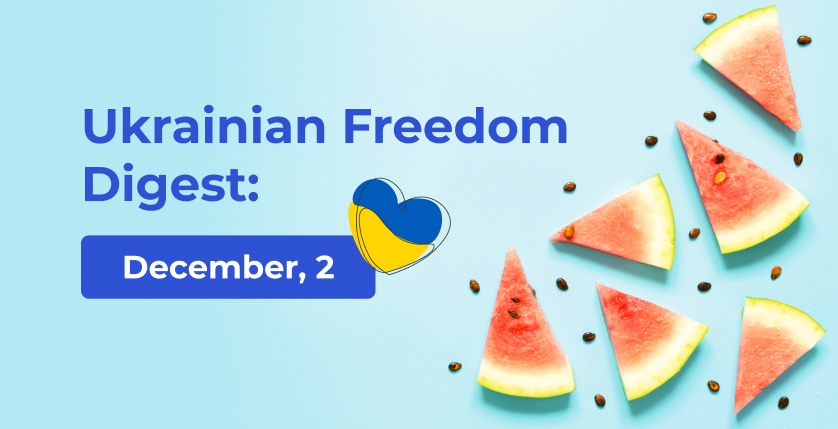 Glory to Ukraine!
Glory to its heroes!
It is winter again and the war in Ukraine seems for some Ukrainians as the never ending circle of events, however they continue defending their country and our Training Center continues its contribution by spreading the truth of what is happening in Ukraine right now in our digests.
We created a  sum up list of the war events that happened this November:
Blackouts and Invincibility points
Aggressor country has a way of launching their missiles at the beginning of the last working week. The Armed Forces of Ukraine shot most of those missiles down, but some of them hit power stations, knocking out electricity and water supplies. These tactics of the occupants have been known to the world for a long time now. Ukraine regularly holds rolling blackouts in every region of the country so that the national system can avoid total blackout. Rolling blackouts are introduced in Kyiv, Chernihiv, Cherkasy, Zhytomyr, Sumy, Kharkiv and Poltava regions. The latest largest bombing happened on 23-rd of November and cause a massive blackout thoughout Ukraine. Some regions were left without gas, electricity and water for more than three days. However, there are solutions suggested by the President of Ukraine – local  Invincibility points have opened all around Ukraine. These are the special shelters where people can charge their phones, warm up and basically get any basic human  need fulfilled. 
Welcomed home
Ukraine continues to conduct exchanges of its heroes back home. The latest exchange helped 107 military servants to return home from Russian captivity. In particular, it was possible to exchange seriously injured and bedridden from Mariupol, from Azovstal, soldiers with shrapnel wounds of arms and legs, and gunshot wounds of various parts of the body. The last exchange counted  50 prisoners of war from each side on November 24, according to presidential and defense officials.
NATO recognises Russian terroristic regime
The NATO Parliamentary Assembly has designated the Russian Federation and its regime as terrorist.  The Assembly has adopted a resolution at the annual session in Madrid on October 13. PACE became the first international organisation to recognise Russia as a terrorist state.
Ukrainian representative to the NATO PA, Yehor Chernev noted that the tribunal could make it possible to convict not only the direct perpetrators of war crimes but also the top leadership of the Russian Federation. It was also stated that the adoption of this resolution is an important political step that reflects the mood in Western parliamentary circles, and therefore influences the leadership of countries in decision-making.
Kherson… liberated at last 
As of November 10, the Armed Forces of Ukraine have completely liberated the Mykolaiv region from Russian occupiers, stated the Secretary of the Committee on National Security, Defense, and Intelligence of Ukraine. Also, it has been announced that Russian Defense Minister Sergei Shoigu ordered his troops to withdraw from the southern city of Kherson on Wednesday on 9-th of November. Shortly after, the Armed Forces of Ukraine were warmly greeted by the citizens of  Kherson. In spite of the fact that «enemy doesn't give gifts»,  it is an important event for the Ukrainian nation, as tears just appear after watching the greeting of AFU and civilians. This is truly mind-altering.
Losses chart 
However, there are numbers that are growing constantly. Total combat losses of aggressors in Ukraine from 24 February to 10 November, according to the General Staff of the Armed Forces of Ukraine: 78690 troops; 2804 tanks; 5682 armored vehicles; 1805 artillery systems; 393 MLRS; 205 anti-aircraft warfare systems; 278 aircraft; 260 helicopters; 4242 military auto vehicles and fuel tanks; 16 military boats; 1499 tactical UAVs; 159 special military equipment; 399 cruise missiles. The enemy suffered the greatest losses in the Lyman and Avdiivka directions. – General Staff of the Armed Forces of Ukraine.
Ukraine stands. With electricity or without. In complete blackout as well as with light generators. With water supply or without. At home or at Invincibility points. The reason is simple, we are people who fight for their freedom. Freedom costs more than light, than warmth and even water. Freedom is independence and Ukrainians know that for sure and know how to fight for it.