Ukrainian Freedom Digest: April, 29
29.04.2022

Posted by:

Admin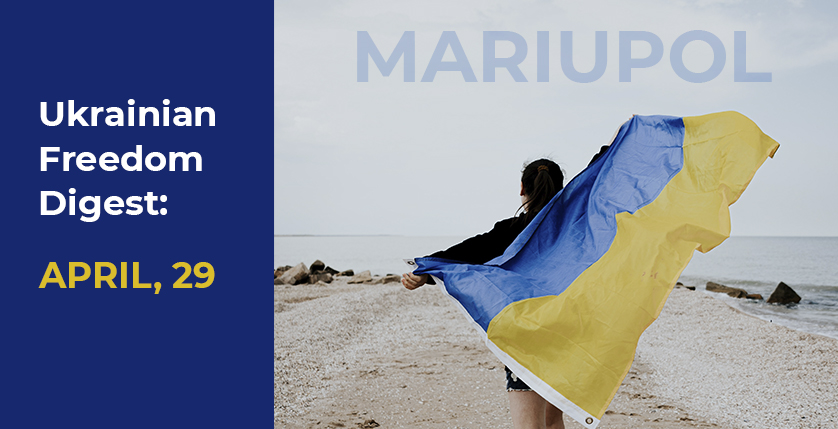 We keep staying in touch!
Today it is very complicated to talk  about the terrors that have already happened and continue happening in Ukraine, about Bucha,Irpin, Mariupol, Odessa and Kharkiv. Unfortunately, we won't be able to bring back those who were killed by Russian military officers. However, we have a chance to save those who are still alive.
It is important not to remain silent about the situation happening in Mariupol. This city has been blocked by the Russian military since 1-st of March. The defenders of Ukraine have gathered in the Azovstal factory, among them are Azov regiment, marines, board guards and Ukrainian National Guard. There are also civilians, hiding from bombs and shelling of the Russian army in the dungeons of the old plant.
The plant territory is daily shelled by different kinds of bombs such as phosphorus bombs, as well as missiles, artillery and in general is suffering the consequences of the airstrikes. The night of the 28-th of April was the hardest one as russian army had been throwing bombs on the field hospital and then after destroying the concrete structures, mercilessly fired on the ruins of the ship's artillery. The enemy wants not just to destroy the defenders of Mariupol, but also those who cannot defend themselves: women, children, the wounded. They want it at any cost it takes.
The only thing we can do now is to ask not to remain silent, but to spread information and to turn to all international organizations for help. After all, the Geneva Convention guarantees the protection of any medical institution, so they must not be attacked! Civilians must be saved, not deported to Russia, as if it is the only way to survive, but saved in their homeland.
We ask for support from all over the world by spreading information, praying and spreading the truth!
We believe in the victory of good, we believe in the victory of Ukraine!