Ukrainian Freedom Digest: April, 13
13.04.2022

Posted by:

Admin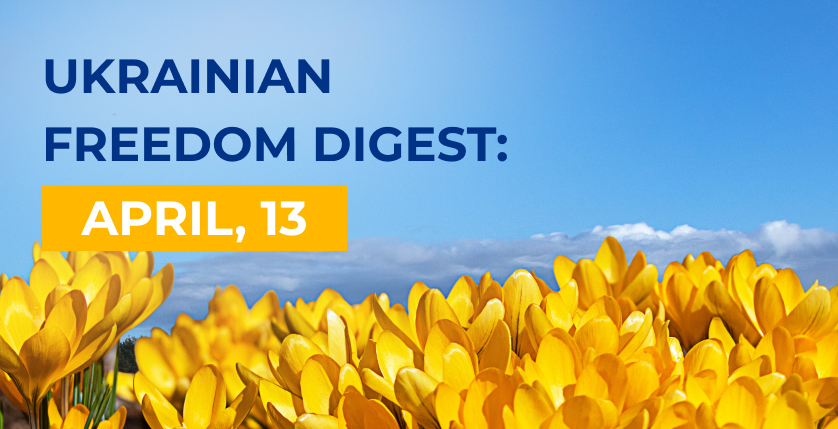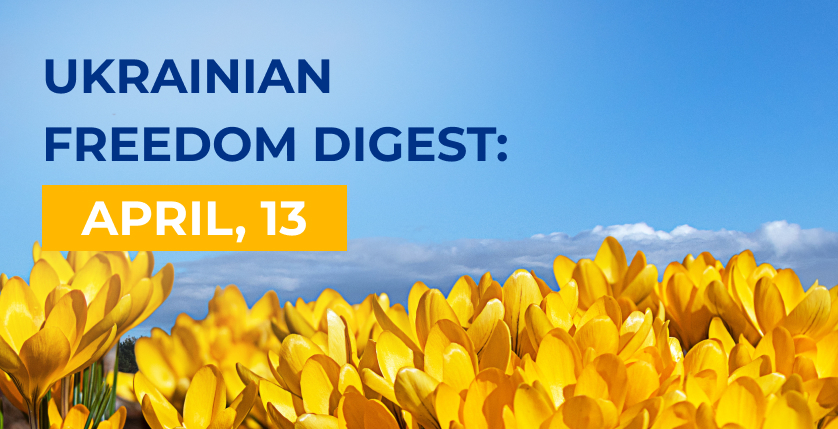 The 49th day of the heroic resistance of Ukraine against Russian occupants has passed.
Here are some main events happening in Ukraine:
The enemy continues to launch missile and bomb strikes on civilian infrastructure and due to the weather conditions, it has significantly reduced the use of aircraft.

The occupiers will continue to commit atrocities in Ukraine. The latest case was the use of munitions in Mariupol against the defenders of the city with a poisonous substance.

Mass bombings and shelling of Ukrainian towns and villages by the Russian armed forces damaged 957 educational institutions, 88 of which were completely destroyed.

The United Nations has recorded 1,892 deaths and 2,558 injuries of civilian Ukrainians since the start of Russia's full-scale invasion. 191 children died and more than 349 were injured.
Despite the fact that the occupiers are blocking evacuation buses and violating the ceasefire, the Ministry of Reintegration of the Temporarily Occupied Territories of Ukraine continues to create humanitarian corridors and evacuate the population from cities where active hostilities are taking place. As of 12-th of April, 2,671 people were evacuated. 2343 people traveled to Zaporizhia by their own transport from Mariupol and Berdyansk.
Despite all the terrors that are happening in our country, Ukraine is actively developing plans for future reconstruction of the country:
The rebuilding processes have started  in the regions liberated from the occupiers.

Ukravtodor has already cleared up  200 km of roads and rebuilt 6 river  bridge crossings where they were destroyed.
The presidents of other countries continue to express solidarity with Ukraine by paying visits to the capital of Ukraine. This decision has already been made by the presidents of Poland, Estonia, Latvia and Lithuania, who have arrived in Kyiv today. It will be remembered that the Prime Minister of the United Kingdom Boris Johnson and the President of the European Parliament Roberta Metsol also have paid a visit to support Ukrainians.
We continue to express our gratitude to those who defend Mariupol, to all the military officers who are fighting in the joint forces operation zone and defending Kharkiv. Our sincere gratitude is also to all those who take care about the victims of the war and support the Ukrainian army.
You can still help us by donating to the official funds to help:
Ukrainian Armed Forces
"Come back alive" fund – https://savelife.in.ua/donate/ 
Civilians 
Ukrainian National Bank account – https://bit.ly/3vEVsW8
Animal shelters
"Happy Paw" charity foundation – https://happypaw.ua/ua/contribution
We believe that the light will win over the darkness!